We are represented for commercial projects by Swoon. Please contact:
Roz Houchin
roz@weareswoon.com
+44 (0)7900 887 423
or
Lois Newcombe
lois@weareswoon.com
+44 (0)7787 550 760
Click here to email us.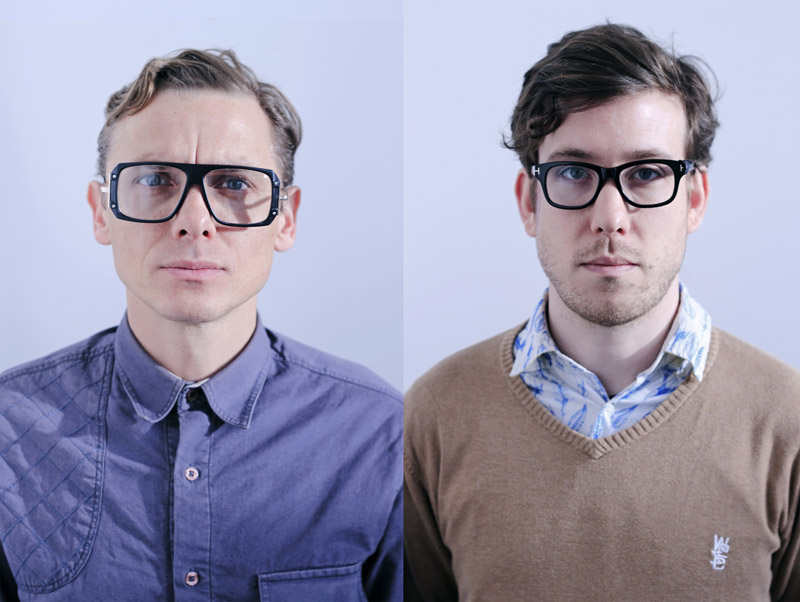 Hellicar & Lewis is the partnership between Pete Hellicar and Joel Gethin Lewis. Their work uses art, technology and design to create groundbreaking experiences that take people into the moment to impart lasting memories. Their projects bring together traditional media, interaction and digital networks to make feedback loops between people, technology and places.
In addition to their commercial work, Hellicar & Lewis also enjoy working in educational, artistic and performance contexts. The creative duo are involved in an ongoing project creating interactive therapeutic software for young people on the Autistic Spectrum. Hellicar & Lewis are an advocate of the Open Source approach throughout society, in addition to the need for a programming education for all.
Hellicar&Lewis is:
Pete Hellicar: Co-Founder
Joel Gethin Lewis: Co-Founder
Amalie Englesson: Producer
Kieran Startup: Art Director
JOYN made a film about us in May 2013:
Tomas leach made a film about Hellicar & Lewis in February 2010 for his Little Scraps of Paper project:
Vice made a film about Hellicar & Lewis in May 2011 for their Creators Project.
Protein made a film about Hellicar & Lewis in March 2011.
Creative Review wrote an article about Hellicar & Lewis in July 2009, you can download it here.
You can find source code, and other developer information at our Hellicar & Lewis github. Older projects can be found at our Hellicar & Lewis Google Code Project.
Joel Gethin Lewis first studied Mathematics and Computer Science at Imperial, before completing an MA in Interaction Design at the Royal College of Art in 2003. Post-graduation he worked at Benetton's communication research centre, Fabrica, before returning to London where he worked as the interaction designer at United Visual Artists – collaborating and touring with the likes of Battles, U2 and Massive Attack, as well as creating installation works such as Monolith, Volume and Hereafter. After discovering openFrameworks in 2007 through Chris O'Shea, Lewis co-founded Hellicar & Lewis in 2008 with Hellicar. The business was founded with the express aim of building a creative business around Open Source.
Pete Hellicar toured the world, skating professionally, before co-founding Unabomber Skateboards in 1997. Here he produced boards and apparel featuring the work of, among others, Pete Fowler and Will Sweeney. In 2001 Hellicar became the art director for Etnies Worldwide, where he was responsible for the rebranding of Etnies advertising, including all logos and apparel. In 2004 he returned to the UK, where continued art directing campaigns for Etnies and doing design consultancy for clients like Channel 4, Topshop and Orange.
We've exhibited at:
Stedelijk Museum, Amsterdam
The Turbine Hall, Tate Modern, London
The National Poetry Library, London
Semi-Permanent, Hong Kong
onedotzero, London
Watermans Gallery, London
Kalied Editions Gallery, London
Outline Editions Gallery, London
The Banff Arts Center, Canada
The Victoria and Albert Museum, London
Yota x onedotzero, St. Petersberg
FOAM Gallery, Amsterdam
We've presented our work at:
Hellicar & Lewis regularly run
workshops
on a variety of subjects.

Hellicar & Lewis occasionally do a radio show at London Fields Radio. You can find the latest shows at the London Fields Radio Mixcloud page.
The site is created using WordPress. You can read more about the making of the site in this blog post. It uses a custom theme based on Thematic.
We use Webfaction to host this website.